Classes for Mothers & Partners
CLASS FORMATS FOR  MOTHERS & PARTNERS
:
WHY WE USE THE FORMATS WE DO

THE FORMATS:
1) One day Leclaire Hypobirthing® Babymoon Class – $275
10:30 am – 5:30 pm with CD's/mp3 for  followup with a one half hour catered lunch break
 along with healthy snacks throughout the day to enhance brain function.
SCHEDULE: 3RD SATURDAY OF OCTOBER, JANUARY, MARCH, MAY, SEPTEMBER
CALL TO REGISTER: 310-454-0920
PRIVATE CLASSES AVAILABLE :
CALL NOW TO SCHEDULE 310-454-0920
Your own Private Couples Babymoon class – Also $275
One 3 hour class with CD's/mp3 for follow-up
.
Schedule for Los Angeles and surrounding areas
– Call for Ojai/Ventura/Santa Barbara schedule.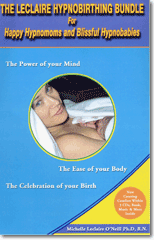 At Home Study Class – Hypnobirthing® Bundle $59.99:
Hypnobirthing® For Happy Hypnomoms and Blissful Hypnobabies
Book

3 CDs:
– "How to Change Unhealthy Beliefs"
– "Preparing Your Pregnancy-Post Partum Health Plan"
– "How to be a Good Support Person"
4) Designer Class
Time and location of your choice.
CALL NOW TO SCHEDULE YOUR CLASS 310-454-0920


These are the formats most preferred by both mothers and their partners for:

a) The convenience

b) The enhanced total recall

c) The greater bonding between the mother and her support person which
 carries over into labor.
Our one day group class or our three hour private class enhances the closeness as well as
 the increased ability to relax.
After your one day interactive integrative medicine experience in Hypnobirthing: The Leclaire Method®, all you need to do afterward is to rest and relax at home with your :
a)  Hypnobirthing®: The Leclaire Method®  CD/mp3
#1 "Creating Comfort Within"   (Play throughout your pregnancy)
b)  Hypnobirthing®: The Leclaire Method® CD/mp3
#2 " Labor and Birthing from the Inside Out"  (Play from week 37 on)
Truly this is all the preparation you need.
WHY WE USE THE FORMATS WE DO
Our evidence based study proves that Hypnobirthing®: The Leclaire Method® continues to be the easiest , most efficient, relaxing and elegant birthing system for both mothers and partners.
Reviewing with your Hypnobirthing®: The Leclaire Method® CDs enhances your recall in the most relaxing, comfortable and efficient way possible. Your Baroque music CD complements your learning and hypnotic anchor as well as increasing your serenity.
Each format of Hypnobirthing®: The Leclaire Method® contains learning strategies that completely engage all participants in interactive neuroscience protocols, cognitive rational behavior techniques and our comprehensive mind-body program.
You will also learn hypnosis, imagery and mindfulness strategies along with learning how to release your fears, create comfort and change your unhealthy beliefs into healthier ones.
The scientific evidence is compelling in that the brain can make positive and significant changes in a condensed short period of time.
 
Hypnobirthing®: The Leclaire Method® has upgraded childbirth education by giving the mother and her partner all the skills and relaxation one needs to succeed within a desirable time frame.
Our at home course allows the same capability and freedom. Our music, available on CDs for pregnancy and labor, boosts your bonding, empathy, patience, focus, cooperation, comfort, trust and learning.
Our entire program guides your  learning to strengthen your memory, to feel comfortable and relaxed and to succeed in accomplishing your pregnancy, birth, as well as your post partum goals.

Our class formats are structured for your easy achievement of your individualized goals.
JOIN US IN ONE OF THE FORMATS OF YOUR CHOICE!